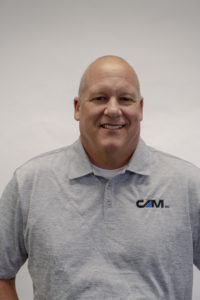 Bob specializes in taking CAM projects from the ground up. Handling budgets, purchasing, and the actual construction. He spends half his time on job sites and the other half working behind the scenes in the office. In between projects, he remodels and repairs CAM's properties.
A 1987 graduate of the  University of Cincinnati with a bachelor's degree in Civil Engineering, he began his career with CAM as a co-op in 1985, and went full-time in 1987. His favorite thing is seeing a raw piece of property transform into a finished product. In his time at CAM, Bob has helped manage 30-40 projects in the Greater Akron area. One of his greatest rewards is driving by his buildings with family and sharing his hard work. They love their "Bob the Builder".
Bob has many values that drive him with the top three being honesty, loyalty, and dependability.
He is thankful to be apart of CAM because of their family values. They appreciate their employees. He also enjoys working and interacting with many different people on a daily basis.

Bob and his wife Kim have been married for 30 years and have 4 children; Hillary [David], Luke [Cynthia], Jim, and Joe. Thus far they have 3 grandchildren; Colton, Beau, and Victoria.
He enjoys riding his Harley Davidson motorcycle and spending time at the family farm cutting firewood,swimming in the pond, and enjoying nature with his family.
Favorite Quote: "Through hard work, perseverance, and faith in God, you can live your dreams"