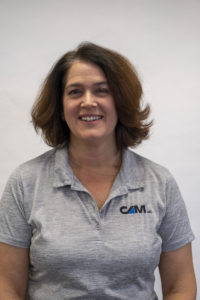 Denise Bloom is a self-described caregiver. She strives to ensure tenants have a well cared for suite and excellent service by the in house maintenance team.  She also works with long time valued vendors to ensure the CAM's properties remain professional, clean, and up-to-date. She takes pride in making sure tenants are satisfied with their properties and firmly believes quality property management is a huge component of successful leasing. 

Denise has worked at CAM since 1988, when she was hired right out of high school. She started as a secretary, moved into an office manager role, then a maintenance tech supervisor, and is currently, a property manager. She still manages the maintenance team and works hard to foster a culture of people that are geared to help in order to ensure regular upkeep to tenant spaces.
In Denise's role, no two days are alike. She values teamwork, flexibility and open-mindedness. 
She loves the variety of work at CAM and the great people she gets to work with in and out of the office. There's always someone new to meet or a new challenge to solve at CAM.

Out of the office, Denise enjoys refurbishing furniture and gardening – both vegetables and flowers.

Favorite Quote:  "In the end it's not the years in your life that count; it's the life in your years." – Abraham Lincoln