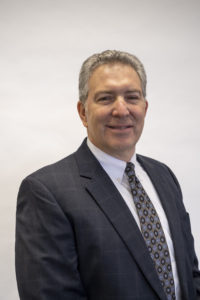 Born and raised in Northeast Ohio, Jeff and his dad, CAM, Inc. founder Chuck Mockbee always talked about going into business together.  Jeff officially joined the family business at 17, and after high school got his Bachelors of Science in Civil Engineering from the University of Cincinnati. From there, he earned his State of Ohio Real Estate Sales License, and promptly joined both of his parents to develop the next generation of CAM, Inc.
CAM gives him the opportunity to solve problems for others and build something that is tangible and meets their needs while also providing a good return financially. He participated in Leadership Akron's Class of 1994, and has been a member of the NAIOP Private Developers National Forum since 2000.  As President, Jeff tries to guide both the company and himself with integrity, honesty, providing a quality product, and hard work.
When he's not entrenched in all things that pertain to CAM, Inc., he enjoys being involved with his kids activities, and traveling with his family and friends.  He also spends time in the Akron community as a volunteer with United Disabilities Services and Bath Township Sewer and Water District.