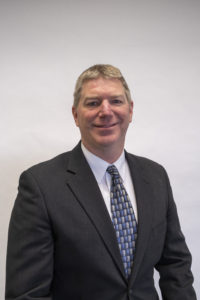 When Mike Mockbee's parents started CAM Inc., he was still in high school. Mike pitched in wherever he could on the job helping out with construction site cleanup, mowing grass and any other company projects that came up. After receiving a degree in Marketing from Ashland University, it was only natural that he joined the family business with his dad, mother, older brother and sister.
Mike started full-time in 1992 as a property manager for CAM. Mike currently oversees the Property Management department, Leasing and handles company Human Resources.
Mike has always been fascinated with construction and real estate, and received his Real Estate License from the State of Ohio. When he travels he loves new architecture and how people live and interact in different buildings. He is driven by the relationships he has with clients and strives to create win-win partnerships where everyone – clients and CAM employees – are treated fairly.

When he's out of the office, Mike enjoys being spending time with family, hiking in the Cuyahoga Valley and going on bike rides, skiing, traveling and looking for new adventures. While he loves a well-designed office building, the great outdoors is the best place for Mike to take a break.
Favorite quote: "On matters of style, swim with the current. On matters of principle, stand like a rock."  – Thomas Jefferson